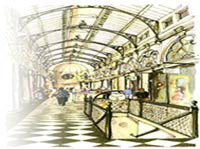 Capri Development LLC is a full-service, privately owned real estate firm in the Midwest. Since 1980, we have earned a reputation for the highest level of professionalism and establishing long-term client relationships.

Capri Development's commercial real estate practice specializes in working with our retail clients to find the best location and property, design a layout which gives the most useable/leasable space, assist with municipal approvals and/or re-zoning, and assemble adjacent properties as needed.

Capri Development develops properties primarily for the portfolios of its principals, as well as, developing properties on fee basis compensation.

Capri Development's decades of experience lends to accommodating our Tenant's diverse needs.

Ground-up development
Build to suits
Full service sit-down or fast-food restaurants
Drug Stores
Freestanding
Banks
Gas stations
Small, medium, and large retail strip shopping centers
Big box users
Hotels & motels

Capri Development is your resource for:

Locating a site
Surveying
EPA Environmental Phase 1 & 2
Site Plan work-ups
Architectural drawing
Project costing
City, County, State, and Highway department approvals
Financing
Building
Leasing
Management

©2004- Capri development LLC All Rights Reserved | Terms of Use